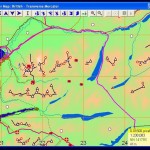 GPS receivers differ in mapping capability. Some models can display your navigational data overlaid on a digital map. Available maps can include marine (nautical charts), topographical, satellite imagery and street maps. Make sure the mapping-capable receiver you want supports the maps you want to use.
Some units have preloaded maps typically featuring cities and major roads; others may be more detailed. Most GPS receivers, however, do not come preloaded with detailed topographic maps.
Check before you purchase that preloaded maps are of a type and scale you will use, as this software takes up a lot of internal memory and often is not erasable. Supplemental maps can usually be added through optional software.
There are several types of software that you can use along with your GPS.
Proprietary mapping software from GPS receiver brands such as Garmin and DeLorme may be all that you need.
Mapping software helps you load useful trip information into your GPS and then print a quality paper map. You can view a digital topographic map on your computer, study elevation profiles and mark key waypoints. Plug in your GPS and you can download this data to the unit. The trip information will be visible on the GPS «map» screen, even if you have no digital topographic maps uploaded. Next you can design and print a paper map, which can include the waypoints and routes for your trip. This makes comparison of the map to the GPS screen easy.
Waypoint management software is optimized to get data and maps onto your GPS. The trip planning functions will be more limited, and this type of software is generally not ideal for creating paper maps.
In general, the type of GPS unit you buy determines the choice of digital maps available to you. Study the software you would like to use to check compatibility before making your purchase.
Types of Digital Maps
Digital maps for a GPS can be downloaded via the web, purchased on a DVD-ROM or an SD card (depending on the type of GPS unit you have selected). Some mapping software applications may also allow map-sets to be loaded onto a specific model of GPS.
Web
Pros: Broad selection of high quality maps, low price.
Cons: Takes time to download. Requires computer interface to load mapping software onto your handheld.
MicroSD Card
Pros: Pops right into your handheld. It doesn't even require a computer, so this is a good option if you're not comfortable with technology.
Cons: Planning your trip in advance is very difficult using this type of mapping software. All of that data on your handheld may slow down some older processors as it renders each page. If you lose your handheld, you lose your software too.
DVD-ROM
Pros: Load the information on your computer to plan your trip and save your waypoints onto your handheld. If you lose your handheld, you haven't lost your software.
Cons: Requires computer interface to load mapping software onto your handheld.
Satellite Imagery
Pros: Lets you integrate high-resolution satellite views with your maps for a true picture of your surroundings.
Cons: Optional feature requires a subscription fee to download imagery and obtain updates.
Map Scales
1:24,000
Pros: The same scale as 7.5-minute USGS maps, this software shows covered areas in greater topographical detail than 1:100,000 scale maps. Garmin 24K TOPO mapping has detailed topo mapping and accurate street mapping, plus it supports auto-routing on compatible units. With auto-routing, you can pick a destination in the backcountry or in town, and get turn by turn directions on paved roads, dirt roads and backcountry trails.
Cons: Doesn't cover nearly as much area as 1:100,000 scale.
1:100,000
Pros: Covers a much bigger area than 1:24,000 scale maps.
Cons: Provides less topographical detail than 1:24,000 maps.
http://www.rei.com
Det Norske Kartselskapet AS
Annonser
---